Lalitha - G-Spot Mini Wand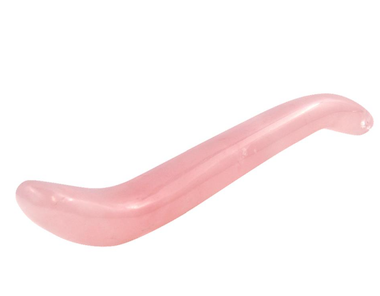 Lalitha - G-Spot Mini Wand
size: 12.5 x 2cm x 1.5cm
origin: Brazil
With its curved ends, this wand targets the g-spot, which is located a few centimetres inside the vagina. You can use it to stimulate that spot and discover the pleasure that might be lying on the other side of your heavenly water
You can also use this was to massage the walls of the yoni, this will help sensitize the tissues which can hold a lot of tensions and memories
Lalitha - G-Spot Mini Wand
Lalitha meaning "she who plays" is the Goddess of Bliss in the Hindu tradition & this magic little tool is imbued with her energy
Rose Quartz is the stone of unconditional love, filled with feminine energy. It is known as the crystal of romance, forgiveness, compassion and softness. It's an amplifying stone that will bring emotions to the surface to heal.
100% natural organic crystal

Comes Satin satchel for safe keeping.

Certified Rose Quartz

Sleek Curves

Holds warm / cold sensations

May use dry, wet or any glide infusion

infuses energetic vibes

Ships Globally & once your order is placed we will ship your egg within 3 business days.

All of the wands have been energetically cleansed and smudged with sage and they have been charged.
Due to the intimate nature of the G-Spot wand, we do not accept returns, exchange or refunds.
How to you
Use the yoni wand to discover erotic reflexology by targeting pleasure points deep inside the yoni.
Use it to stimulate the g-spot, clitoris or other vaginal areas.
We recommend not using our products for diagnosing or treating any health problems. Always consult your healthcare professional if you have a serious medical condition.