Men's work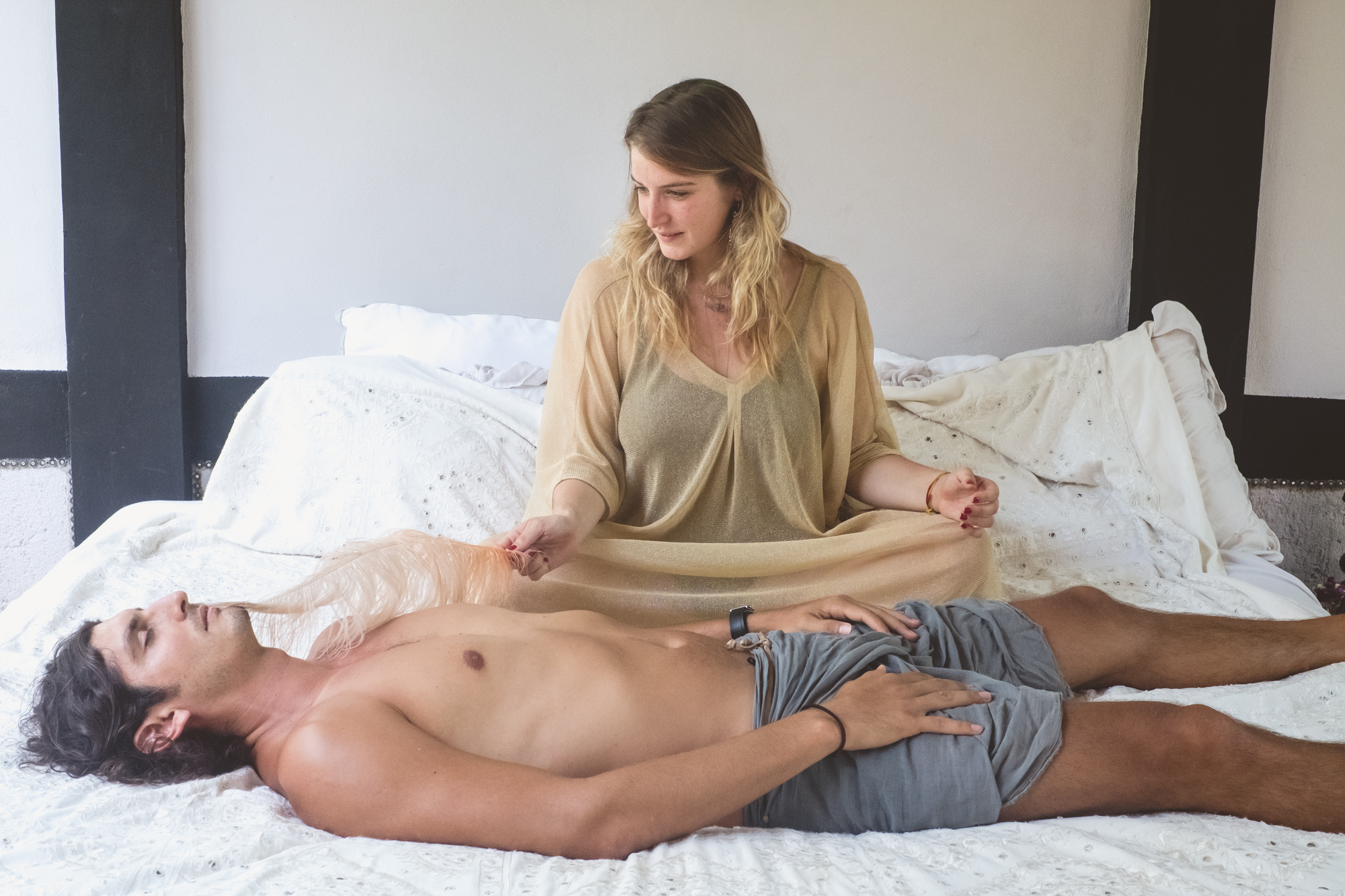 Sensual Awakening for Men is a 3 hour journey that allows you to reconnect with your essence as a sexual being rather than a sexual 'doing'. Here you will remember how to relax and receive. Traditional sexual conditioning has taught men they must 'do' in order to be valued, resulting in a goal-oriented mindset. This inhibits you from the fullness of your orgasmic potential. Through energy cord cutting and sensual massage, these sessions help your body, lingam (the Sanskrit for penis, which translates to 'wand of light') and pelvic floor release imprinted memories. This allows you to experience your softer, more receptive side and rediscover pleasure from a non-traditional perspective.
.These retreats are typically held in the magical land of Tulum, Mexico – one of the most beautiful and unique destinations in the world. Known for its lush jungle, pristine beaches and rich legacy of Mayan culture, Tulum is the perfect place to take an immersive dive into the mysticism and science of Tantra and energy work.
Personal retreats are special 1-1 experiences, providing the opportunity for in-depth exploration, major transformation and learning. On request, they can also be arranged for pairs or small groups with whom you can share your journey, and can be enjoyed wherever you are in the world.
The retreats are comprised of 4 modules, each 3 days long. We encourage you to experience the retreat modules in succession, over the period of a few weeks or months, as the benefits of progressive work are powerful. Each retreat module is designed to build upon the themes and results of previous ones, creating deep shifts in awareness
Awakened Masculinity: Initiation into Energetic Lovemaking
Awakened Masculinity will guide you towards reclaiming your masculine power and living your full potential as a man. This personal retreat series consists of 4 consecutive modules, each 3 days long, that are designed to be experienced over the period of a few weeks or months.
We are living at a time when men are starting to feel a shift in the collective understanding and experience of manhood. We are moving from the traditional cultural-conditioned male role as a performer or 'human doing'. Men were denied and shamed from living as an embodied masculine, or a 'human being' open to vulnerabilities and sensations. The embodied masculine recognizes the importance of understanding intimacy, love and sexuality as a doorway to self-knowledge.
Awakened Masculinity is an invitation to enter your body in a deeper way. To sense, feel and let yourself be guided by your heart. It is a celebration of the wise men whose approach to sexuality emphasizes pleasure, closeness and intimacy. (There is no sexual intercourse of any sort during the retreat.)
Embarking on this retreat is a choice to assert your masculinity. You will learn practices to cultivate presence, grounded-ness, sexual mastery, confidence and sensitivity. It is designed to guide you on a journey that will deepen your knowledge and understanding of intimacy, as well as energetic lovemaking. It invites you to embody your masculinity with an open heart to see, feel and appreciate the depths of intimacy.
Awakened Masculinity is an opportunity to explore life, intimacy and sexuality beyond the confines of what you have been taught and held back by. You will be supported in heart-opening practices that clear pathways to inner healing. This allows you to enjoy a more loving experience of your life – one where you accept yourself and let yourself be seen as you are.
Module 1: Open to Self-Love
3 days, 3 nights
During the Self-Love module, you will release fear and allow self-love to freely flow. This will help you reconnect to your heart and sexuality in order to walk the path of the conscious lover. You will emerge more confident and self-aware. The process invites you to become a masculine presence whose words and actions are genuine and peaceful, rather than misguided and self-destructive. Self-Love will allow you to cultivate inner qualities such as compassion, intimacy and connection. These are essential keys to embracing the fullness of your essence and masculinity.
Explore techniques to reconnect to your sexuality and your heart

Learn grounding techniques to allow you to be fully present in every moment
Module 3: Sexual Mastery
3 days, 3 nights
In the Sexual Mastery module you will explore your connection to sexuality, grounding and presence by discovering techniques to master your life force. Your most vital life force is embodied in sexuality, yet there is little or no education provided about this in our upbringing. This ignorance often leaves men lost, confused and disempowered. During this retreat, you will learn Taoist and Tantric practices to awaken and circulate your sexual energy. You will learn the difference between orgasm and ejaculation, and discover tools to prolong your lovemaking and become a multi-orgasmic man.
Discover the art of internal orgasm as a means of healing and rejuvenation

Channel and circulate your sexual energy to center yourself in your creative force
Module 2: Healing the Warrior Wound
3 days, 3 nights
The traditional model of sexuality is focused on male performance rather than on creating pleasure. Over time, this pattern builds tension and armoring in the body, causing men to lose their natural sensitivity and subtle sensations. This module invites you to release blockages, re-establish a relationship with your lingam (the Sanskrit word for penis) and remember your intimate connection to yourself and the richness of your entire body. Once this relationship is healed, your erotic energy begins to move more freely, ready to be transformed into love, healing and creative expression.
Release the sexual conditioning of masculine performance culture

Heal your relationship to your lingam & begin a new alliance
Module 4: Awakened Lover
3 days, 3 nights
The recognition that women and the sacred feminine represent the primordial cosmic power of Shakti that initiates men has been forgotten. Sexual mastery without a deep emotional connection to love and the feminine is devastating for our planet. Men are not trained to know how to love or make love to a woman. Lovemaking is an art and a man who desires to make love in a way that opens his heart and that of his partner is one of life's greatest pleasures. In the Awakened Love module you will discover how to deeply honor and respect the feminine in order to fulfill your deepest purpose as a sacred lover.
Learn how to understand a woman's pleasure to create deeper intimacy and trust

Learn to create sacred space and honor sexuality as a means of creation
SAMPLE Daily Schedule
☆☆☆
❤ 08:30 - 10:00: Morning practice
❤ 10:00 - 11:00: Breakfast
❤ 11:00 - 1:00: Teachings
❤ 1:00 - 2:30: Lunch
❤ 2:30 - 6:30: Awakening session/adventure
❤ 8:00 - 9:00: Dinner
❤ 9:00 - 11:00: Evening practice - Ceremony

*The schedule above is an example of how a day could be created.
Aude offers a limited number of personal retreat opportunities per year. If you are a man seeking a unique and powerful experience, apply today.
Payment plans are available upon request.
Payments can be made via bank transfer or PayPal. Attendees are responsible for transaction fees. Sign up via the form above and check your inbox for an email from us with all the information needed on how to complete payment.