Couple's work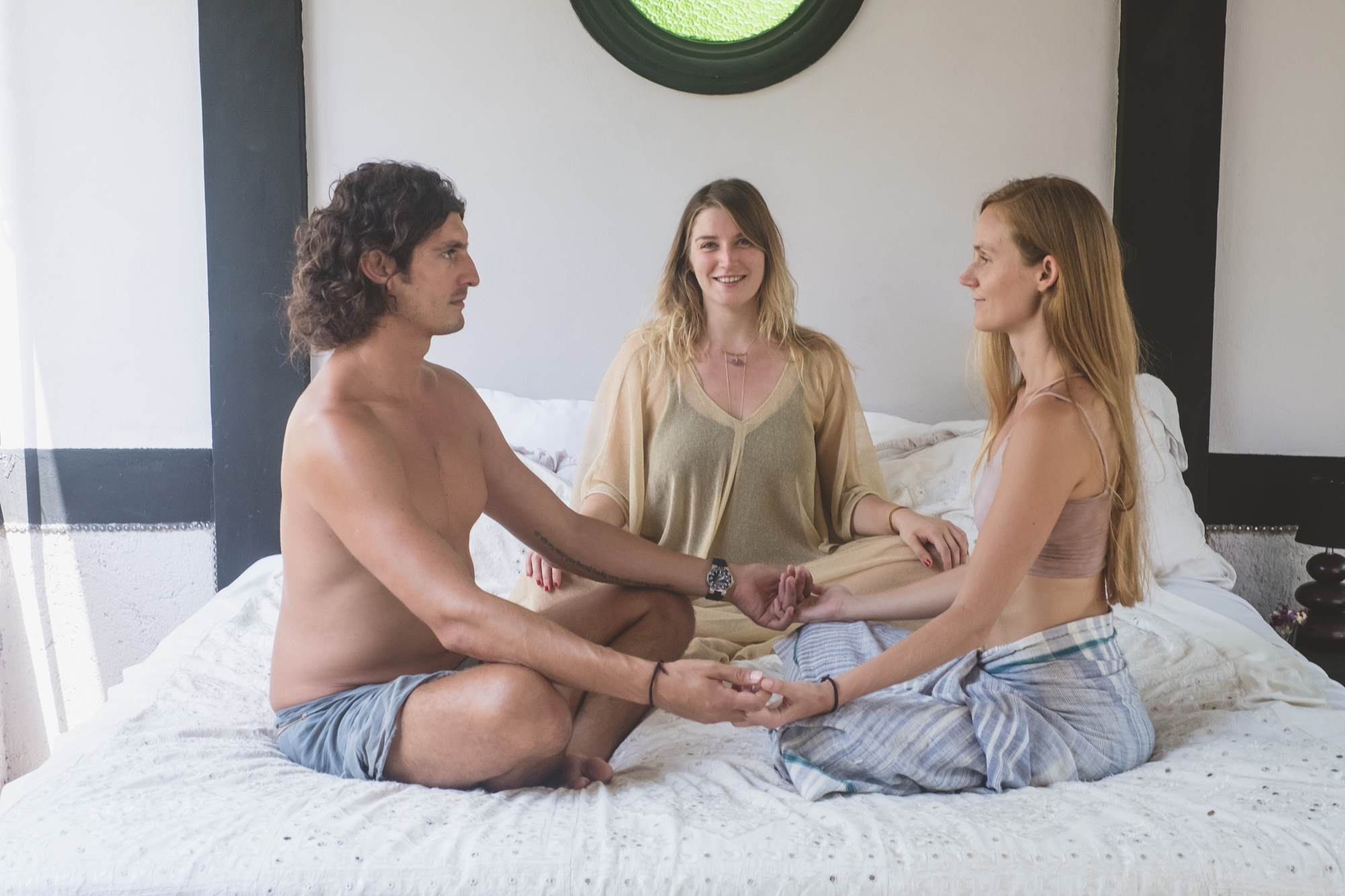 Couple's Sessions are 3 hour experiences for pairs who want to dive deeper into their relationship, intimacy and growth. These sessions will provide an insight into the sacredness of sexuality, beginning with an awareness of how to balance the masculine and feminine within each individual, as well as how to work with these polarities as a couple.
Couples' Sessions can include:
Communication practices

Bodywork

Breath work

Exploring boundaries and consent

Tantric meditations and rituals

Sex education
.These retreats are typically held in the magical land of Tulum, Mexico – one of the most beautiful and unique destinations in the world. Known for its lush jungle, pristine beaches and rich legacy of Mayan culture, Tulum is the perfect place to take an immersive dive into the mysticism and science of Tantra and energy work.
Personal retreats are special 1-1 experiences, providing the opportunity for in-depth exploration, major transformation and learning. On request, they can also be arranged for pairs or small groups with whom you can share your journey, and can be enjoyed wherever you are in the world.
The retreats are comprised of 4 modules, each 3 days long. We encourage you to experience the retreat modules in succession, over the period of a few weeks or months, as the benefits of progressive work are powerful. Each retreat module is designed to build upon the themes and results of previous ones, creating deep shifts in awareness
Awakened Intimacy: Retreat for Couples
Awakened Intimacy is designed as the perfect gift and hideaway for a couple to enjoy an intimate celebration.
This personal retreat series consists of 4 consecutive modules, each 3 days long, that are designed to be enjoyed over the period of a few weeks or months. It's a powerful opportunity for you and your partner to come back to your sensual selves, gain new insights into sex and expand your view of intimacy.
Our lives are so busy these days that it is easy to feel disconnected from your beloved. It is important to make time to reconnect with your intimacy and love for one another. Awakened Intimacy offers you the quality time and tools to re-ignite your passion and reconnect your hearts, inviting you to once again relax into loving connection – and deep pleasure – with one another.
Awakened Intimacy brings couples a taste of new possibilities in their connection, under the teaching of a professional intimacy guide experienced in in Taoist, Tantric and shamanic sexual practices.
Ancient wisdom is blended with a modern understanding of relationships to create an open learning environment for couples at all stages of life. To embody the principles learned, each day you'll return to your private space for experiential Tantra meditations and practices in sexual union. (There is no sexual activity in the presence of the intimacy guide.)
This retreat series opens the doorway to deeply transformative intimacy as an empowering meditation and practice of love.

Module 1: Connection
3 days, 3 nights
During the Connection module you will learn to connect with your partner on an emotional, mental, physical and spiritual level. You will experience introductory Tantric practices. These focus on rediscovering presence and awareness, deepening your sexual and emotional connection and taking your relationship to a new level. Discover the keys of Tantra and how to clearly communicate your needs and boundaries, while learning the art of conscious touch.
Deepen your intimacy & trust

Communicate more consciously and effectively
Module 3: Exploration
3 days, 3 nights
During the Exploration module you are invited to deepen your understanding of the dynamics of sex. By exploring the polarity between the masculine and feminine and playing with different facets of sexuality, you will learn how to heighten your attraction. You'll also experience the depth of orgasm as a source of energy.
Explore the play of polarity

Play with the different facets of sexuality

Open your orgasmic potential
Module 2: Healing
3 days, 3 nights
During the Healing module you will discover the power that can be harnessed when partners learn to heal each other. You will take the time to heal your sexual sense of self and emotional body from beliefs, social mores and religious conditioning. This will give you tools to regain the full function of your sexuality and your heart, allowing you to create deeper and more fulfilling sexual experiences.
Discover the pleasure anatomy

Release limiting conditioning

Learn sexual healing massage and worship

Module 4: Sex and Spirit
3 days, 3 nights
During the Sex and Spirit module you are invited to refine your lovemaking and discover the interplay between sexuality and spirituality. Opening your heart and soul freely, you'll enter into a devotional perspective of sexual energy as a doorway to the inner secrets of creation. The Sex and Spirit module offers a shift in perspective where sexuality becomes a source of devotion, awakening and creative force.
Build clear intention in lovemaking

Create sacred space & Realize your spiritual union
SAMPLE Daily Schedule
☆☆☆
❤ 08:30 - 10:00: Morning practice
❤ 10:00 - 11:00: Breakfast
❤ 11:00 - 1:00: Teachings
❤ 1:00 - 2:30: Lunch
❤ 2:30 - 6:30: Awakening session/adventure
❤ 8:00 - 9:00: Dinner
❤ 9:00 - 11:00: Evening practice - Ceremony

*The schedule above is an example of how a day could be created.
Aude offers a limited number of personal retreat opportunities per year. If you are a COUPLE seeking a unique and powerful experience, apply today.
Payment plans are available upon request.
Payments can be made via bank transfer or PayPal. Attendees are responsible for transaction fees. Sign up via the form above and check your inbox for an email from us with all the information needed on how to complete payment.